Give your staff the opportunity to boost their wellbeing with these mini sessions, aimed to promote relaxation, and allow staff to de-stress and recharge their batteries – all without having to leave the office.
Workplace Wellbeing options:
A day of wellbeing
A small investment in regular workplace wellbeing will support staff to stay healthy and productive, and work towards reducing the financial burden sickness absence causes.

---
Aromatherapy massage, meditation, and Reiki


A specially selected range of complementary therapies to support staff to relax and unwind with benefits including easing tension and anxiety, muscle pain from poor posture, and energising for increased productivity.   The treatment is carried out with the client fully clothed and sitting in a chair. 
£490 for a therapist on-site – 10am to 4pm
11 x 20 minute slots – Private space/meeting room required
---
Low impact energising body movement – MoGaChi

MoGaChi has been designed to promote controlled breath, good posture and relaxation, at the same time as ensuring the bodies energy, immune and circulatory systems are given a boost.
Option 1: £490 for a therapist on-site
Durations of sessions either – 4 x 50min or 6 x 25min

Option 2: £250 for a therapist on-site
Duration of sessions either – 2 x 50 min or 4 x 25 min

Max 20 attendees per session – Comfy clothes or workout outfit
Clear floor space required
---
Contact Alison to arrange a discussion or book your workplace wellbeing email your enquiry to 360flourish@gmail.com 
Supporting staff to live well and perform well 
---
360 Flourish supports NHS staff through two discount providers:
Health Service Discounts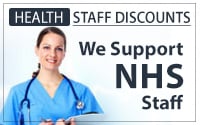 ---
View everything on offer at the Flourish wellbeing centre